I noticed a video making its rounds online that is getting a lot of attention for being "weird."
I watched it, and it appears strange, so I looked into it a bit, to see what I could find out… and I will clue you in on what I found at the end of this piece.
Let me set up the "mystery" for you:
Many folks online say this clip is one of the "weirdest" Bide crowd moments yet. They're convinced this is not a "live crowd" but a crowd that was digitally added later.
They say this because they claim the people in the crowd who are pointing their phones toward Biden and taking pictures or recording, show different images on their phone screens than what we're seeing in the video.
MORE NEWS: James Woods is Back In The Battle, Says Half The Country is Currently "Sleeping" in Mega-Viral Tweet
There appears to be no video of Jill or Joe on the phone screens. On some phones, you can clearly see green shrubs, and this video of Jill and Joe people claim it's "inside."
Also, there are no flags on any of the phone screens.
I am told this was a Cinco De Mayo event at the White House.
You can watch the videos below:
And another one lol… pic.twitter.com/TduIRbh7zR

— Suzy (@Suzy_NotSuzy) May 5, 2022
Here's a screen-grab from the video clip, you can see the green shrubs.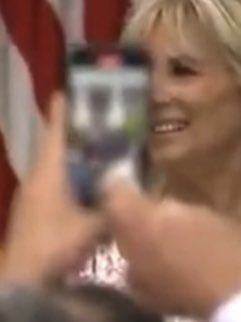 Here's what people are saying online:
"Very weird. The only thing I can think of is he's standing in front of a green screen with background laid in, and guy with phone is laying another background into the green screen."
"That's what this admin is all about….lies and a big "smoke screen". He's actually talking to an empty room. Two more years of this crap. #FJBiden"
"What the actual hell is happening? Are we in a simulator?"
"This entire administration is FRAUDULENT!!!! #LetsGoBrandon"
"WHEN IS THIS FRAUD GOING TO BE ARRESTED FOR TREASON?? They knew they cheated, they knew they were committing treason, they knew if they got caught WHICH THEY HAVE that they would suffer the consequences of a rigged election but they did it anyway! WE THE PEOPLE DEMAND JUSTICE!!"
"The audience was superimposed"
"What the hell is going on in these videos? Fake videos from a fake administration?"
"This is so weird. The "crowd" is CGI they are taking pictures of different images that what is in front of the. Note that no one responds to his pointing and the laughing doesn't match crowd reaction?! Staged?"
"Isn't this weird y'all. Clearly the background and the crowd are artificially put in. The conundrum is why are they doing this?"
"Smoke and mirrors and a senile puppet fraud in chief"
"Fake President in front of photoshopped audience. Pause & look at the screens of the phones people hold up supposedly taking pics, the screens prove this is a lie. This is not the action of a duly elected administration. Know when you're being played."
"Spectators cell phone camera does not depict what is supposedly happening. One cell phone image is exterior of White House. What studio is staging this mock-up?"
Now, I told you I wanted to investigate this and see if I could figure out what was going on, and this is what I have come up with:
This event was for Cinco De Mayo, and it actually was held outside.
I can confirm this because I found the full clip on CSPAN.
Here's a link to the full video.
And here are some screenshots from the footage, you can see the pillar in (what appears to be) the Rose Garden:
I found one guy explaining it like this:
they're a few metres behind him. Phone cameras have a short focal length lens, so background details are shrunk. On the video cameras used by CSPAN etc with telephoto lens, they are enlarged. There are multiple angles of the event
So, he and Jill were outside, and while I agree, that some of that footage looked weird, there appears to be a reasonable explanation, but of course, I am not a " video expert," so I could be wrong.
But I try my best to investigate and at least try to offer a "second opinion" when I can, and let you decide for yourselves.
Social Media