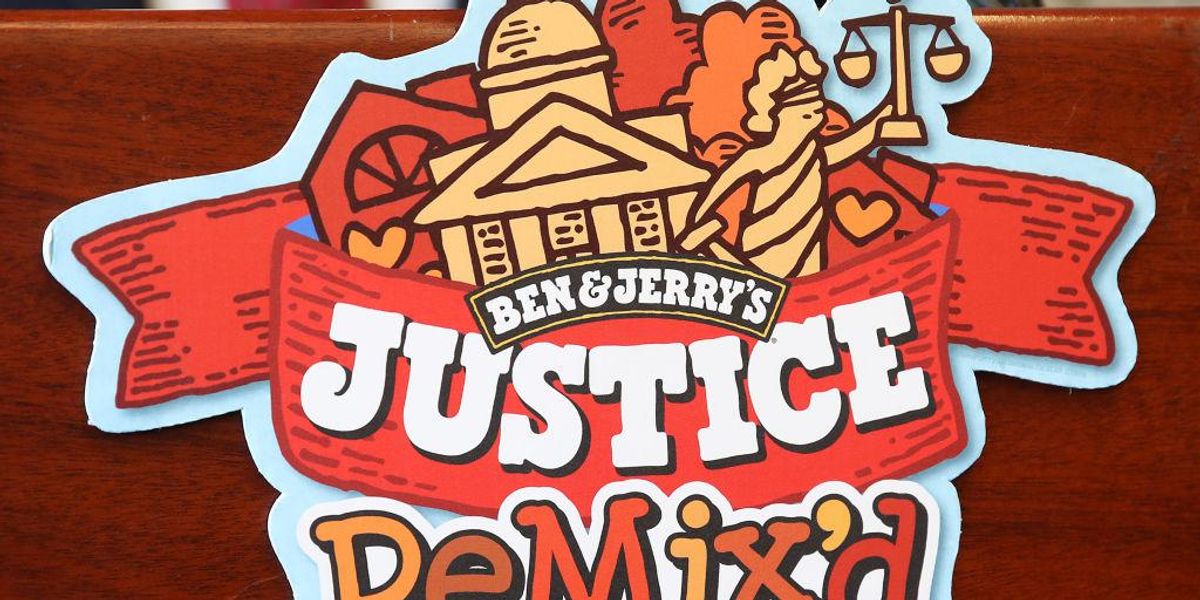 [ad_1]

Progressive ice cream model Ben & Jerry's dished out misinformation about Kyle Rittenhouse, plus utterly invented a hypothetical situation relating to the controversial taking pictures to racialize the powderkeg court docket case. The Vermont-based woke ice cream purveyor was referred to as out for spreading a false narrative online.
The Rittenhouse taking pictures has completely nothing to do with race for the reason that shooter and all of those that had been shot had been white males. Without a racial angle to take advantage of, Ben & Jerry's dreamt up a totally hypothetical state of affairs out of skinny air that by no means really occurred to deliver race into the image.
"The #RittenhouseTrial displays yet again that our 'justice' system is racist," the ice cream model wrote on Twitter. "How would this trial be going if he was a Black 17 yr old that crossed state lines illegally carrying an AR-15 and shot 3 white protesters?"
The Rittenhouse trial remains to be ongoing and no verdict has been handed down but, however that did not cease the Ben & Jerry's from tweeting, "We need real justice in the legal system. This isn't it."
Ben & Jerry's – which is owned by multinational conglomerate Unilever that boasted income of roughly $58 billion in 2020 – promoted a fallacy about Rittenhouse that has been debunked for greater than a 12 months. The Lake County State's Attorney's Office launched an announcement on Oct. 13, 2020, clarifying that Rittenhouse by no means had possession of the firearm used throughout the Kenosha riots whereas he was in Illinois.
An intensive investigation was performed by the Antioch Police Department relating to the gun utilized in a taking pictures in Kenosha on Aug. 28. The Lake County State's Attorney's Office has reviewed that investigation to find out if any crimes had been dedicated in Lake County, Illinois.To that finish, the investigation revealed the gun used within the Kenosha taking pictures was bought, saved and utilized in Wisconsin. Additionally, there isn't any proof the gun was ever bodily possessed by Kyle Rittenhouse in Illinois.
Fact-checker Lead Stories revealed an article this week titled: "Kyle Rittenhouse Did NOT Cross State Lines With An AR-15."
The gun he used within the taking pictures in Kenosha, Wisconsin, was "purchased, stored and used in Wisconsin," the Lake County Illinois State's Attorney's Office mentioned in a assertion. A pal testified throughout Rittenhouse's 2021 trial that he bought the gun used within the taking pictures in Wisconsin, The New York Times reported. Court data obtained by The Washington Post confirmed that the rifle used within the taking pictures in Wisconsin went from Wisconsin to Illinois after which again however it was within the trunk of a automotive pushed by Rittenhouse's pal and was not in Rittenhouse's possession whereas he was in Illinois.
Also, Rittenhouse's weapon was a Smith & Wesson M&P 15 rifle, not an AR-15 because the Ben & Jerry's put up acknowledged.
There was a swift response and backlash to the ice cream firm incorrectly weighing in on the Rittenhouse case and sowing seeds of racial division.
Political commentator Stephen L. Miller: "The whole narrative blew up in their faces so they've now created a fictional teenager and story to fit the old one."
Writer Amelia Hamilton: "This is a false premise since Rittenhouse didn't do that either."
Radio host Derek Hunter: "The proper analogy would be if Rittenhouse were black and so were the people he shot, since they're all white now. And the reality is you wouldn't give a damn. That would be an average day that ends in 'Y' in Chicago and you haven't said anything about it for years."
Liberal journalist Zaid Jilani: "The framework here is a bit outdated. If a black guy shot three white rioters/antifa in today's political climate, the Republican Party would probably try to draft them to run for some kind of elected office."
Podcast host Allie Beth Stuckey: "These people do not live in reality. Their brains are total and complete mush. Absolutely insane."
Former officer in U.S. Army Special Forces Jim Hanson: "It's sadly comical to watch the left spastically fling the race card."
Actor Nick Searcy: "All @benandjerrys can see is race. Their communist ice cream is now also racist ice cream."
Former author for "The Daily Show" David Angelo: "These two morons must have terminal brain freeze. Rittenhouse didn't cross state lines with a rifle, he didn't posses it illegally, and he shot 3 white felons who were attacking him as he fled (it's on video….). Libs are just another strand of flat-earthers. It's hopeless."
Musician Phil Labonte: "Rittenhouse is a white male and he shot three other white males. This trial has absolutely nothing to do with race."
Human Events senior editor Jack Posobiec: "Ben & Jerry's once again spreading the false narrative that the people who attacked Kyle Rittenhouse were black."
A.G. Hamilton: "Again, this case has nothing to do with race. These people have broken brains and have normalized an idiotic and bigoted view of the world. And now major brands promote this garbage."
Former Republican candidate Rob Maness: "Rich corporation's defaming #KyleRittenhouse are going to have a tough time in court."
Former Democratic candidate Heidi Briones: "Aren't you ice cream?"
Ben & Jerry's is not the one one making an attempt to make the Rittenhouse taking pictures right into a racial tinderbox. Democratic politicians, mainstream media personalities, pundits, and online firebrands have racialized the case. Some have even labeled Kyle Rittenhouse a white supremacist regardless of there being no proof of such.
window.REBELMOUSE_LOWEST_TASKS_QUEUE.push(function(){
//Facebook Pixel Code !function(f,b,e,v,n,t,s) {if(f.fbq)return;n=f.fbq=function(){n.callMethod? n.callMethod.apply(n,arguments):n.queue.push(arguments)}; if(!f._fbq)f._fbq=n;n.push=n;n.loaded=!0;n.version='2.0'; n.queue=[];t=b.createElement(e);t.async=!0; t.src=v;s=b.getElementsByTagName(e)[0]; s.parentNode.insertBefore(t,s)}(window, document,'script', 'https://connect.facebook.net/en_US/fbevents.js'); fbq('init', '1398069580413568'); fbq('track', 'PageView');
});
window.REBELMOUSE_LOWEST_TASKS_QUEUE.push(function(){
function menuClick() { console.log("clicked");
if (document.querySelector('.hambg-btn.js--active') != null) { document.getElementsByClassName('huge-menu')[0].style.display = 'none'; document.getElementsByClassName('hambg-btn')[0].classList.remove('js--active'); document.body.classList.remove("huge-menu-opened"); document.body.classList.remove("menu-opened"); } else{ document.getElementsByClassName('huge-menu')[0].style.display = 'block'; document.getElementsByClassName('hambg-btn')[0].classList.add('js--active'); document.body.classList.add("huge-menu-opened"); document.body.classList.remove("menu-opened"); } }
function addMenuClickListener() { var rebelMenu = document.getElementsByClassName('rebelbar__menu-toggle'); var menuClose = document.getElementsByClassName('hm__close'); var stickyMenu = document.getElementsByClassName('sticky-menu');
rebelMenu[0].addEventListener('click', menuClick);
if(menuClose[0] != undefined){ menuClose[0].addEventListener('click', menuClick);}
if(stickyMenu[0] != undefined){ stickyMenu[0].addEventListener('click', menuClick); } }
addMenuClickListener();
});
window.REBELMOUSE_LOWEST_TASKS_QUEUE.push(function(){
window.REBELMOUSE_STDLIB.loadExternalScript("https://assets.adobedtm.com/98de9919e92a38033805f9f035c43198533e4380/satelliteLib-38c7b1e4b1bb3e0378e82d10601662aebfb04eda.js", function() {
window.analyticsData = { events: {active: {view: {asset: {}}, device: {}}} }; window.analyticsData.events.active.device.appVersion = "1.1"; window.analyticsData.events.active.device.host = "premiere.off.us"; window.analyticsData.events.active.device.subHost = "theblaze.com"; window.analyticsData.events.active.pageName = "articles"; //window.analyticsData.events.active.view.asset.id = "articles|"+ __BOOTSTRAP__.post.basename; window.analyticsData.events.active.view.asset.name = document.title; //window.analyticsData.events.active.view.authorId = __BOOTSTRAP__.post.original_user_subsite.title; window.analyticsData.events.active.view.pubDate = "11/14/2021"; window.analyticsData.events.active.view.contentOriginType = "Premiere"; window.analyticsData.events.active.view.stationCallLetter = "TheBlaze"; window.analyticsData.events.active.view.stationFormat = "NEWSTALK"; window.analyticsData.events.active.view.stationMarket = "PREMIERE"; window.analyticsData.events.active.view.personalityId = "theBlaze"; window.analyticsData.events.active.view.tags = ["kyle-rittenhouse-trial", "kyle-rittenhouse", "kyle-rittenhouse-white-supremacist", "ben-and-jerrys", "ben-jerrys", "twitter-reactions"]; window.analyticsData.events.active.view.photoGalleryExists = "FALSE"; window.analyticsData.events.active.view.photoGalleryPageView = "FALSE"; window.analyticsData.events.active.view.contentFrame = "page"; window._satellite && _satellite.pageBottom();
});
});
window.REBELMOUSE_LOWEST_TASKS_QUEUE.push(function(){
function test_adblock(func, id) { var t="0.1.2-dev", el = document.createElement('div'); el.id = id ? id : 'sponsorText'; el.appendChild(document.createTextNode(' ')); Object.assign(el.style, { left: '-999px', position: 'absolute' }); document.body.appendChild(el); setTimeout(function() { if (el) { var o = el.clientHeight === 0; func(o, t); document.body.removeChild(el); } }, 200); } test_adblock(function(is_blocked) { console.log(is_blocked); var wid = is_blocked ? 140286 : 140117, target = document.getElementById('rc-adblock-widget'); var el = document.createElement('div'); el.setAttribute('data-rc-widget', ''); el.setAttribute('data-endpoint', 'trends.revcontent.com'); el.setAttribute('data-widget-id', wid); target.appendChild(el); if (typeof window.renderRCWidget !== 'function') { var script = document.createElement('script'); script.src="https://assets.revcontent.com/master/delivery.js"; script.defer = true; target.appendChild(script); } else { window.renderRCWidget(el) } });
});
window.REBELMOUSE_LOWEST_TASKS_QUEUE.push(function(){
(function(s,u,m,o,j,v){j=u.createElement(m);v=u.getElementsByTagName(m)[0];j.async=1;j.src=o;j.dataset.sumoSiteId='f20bb26e74a94a53daa9113206b98941e1dfba90635d317b9efd9e33a89bf515';v.parentNode.insertBefore(j,v)})(window,document,'script','//load.sumo.com/');
});

[ad_2]

Source hyperlink
Social Media